Hentai Clicker: Test and Review of the Free Online Hentai Sex Game
Hentai Clicker
You want to find a porn game that is both exciting and fun and that allows you to fulfill fantasies that are impossible in the real world. Then hentai sex games are for you! Hentai is a Japanese word for the pornographic category of the manga universe. Today, hentai games have grown considerably among online sex simulators. Today, we offer you a full review of a game that we tested recently: Hentai Clicker. You won't be disappointed!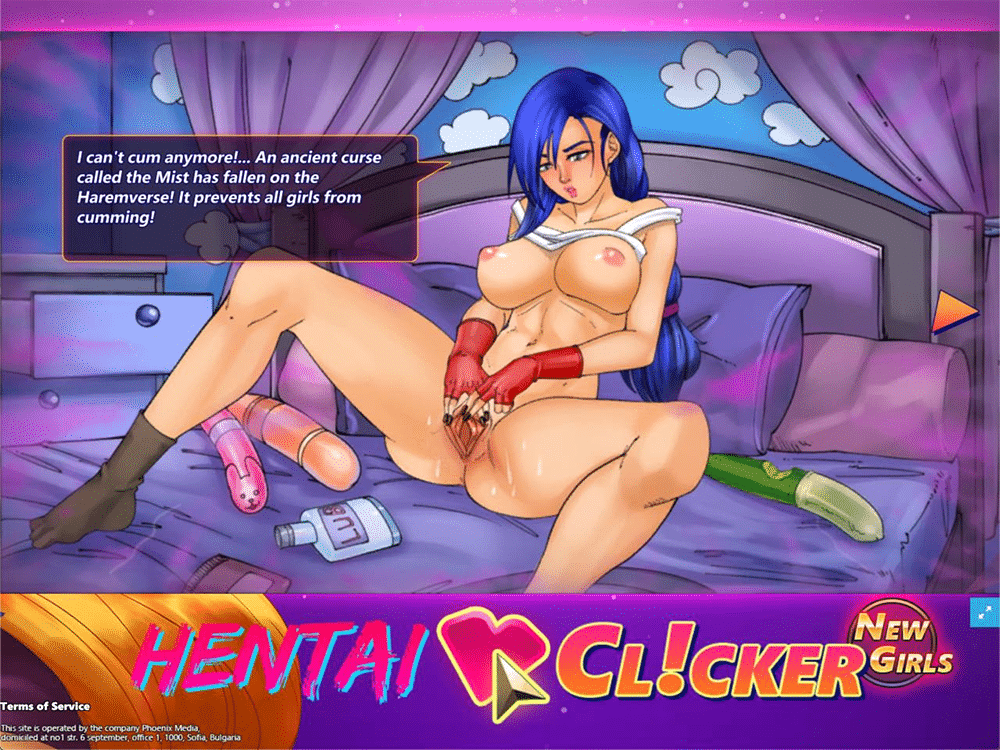 Hentai Clicker in a few words
Manga is a universe apart. In hentai games, we find the same graphic codes for the characters and especially the completely crazy aspect of the Japanese manga. You will discover sex scenes pushed beyond the limits of the extreme, but with a lot of humor and for your greatest pleasure.
In this game, you will be immersed in the skin of a porn-hero whose mission is to help women to cum again. Indeed, in the presentation story, women are victims of a curse. They can't cum anymore and you will be the only one in the world who will be able to give them back the pleasure of orgasm. Besides, a witch has kidnapped you and is holding you prisoner to take advantage of your powers. You have become her personal sex slave. Fortunately, a woman manages to free you and you come back from this hell (well, if you can call it that). From now on, all women will covet you and will want to cum with you.
This game is intriguing and more stimulating than a simple porn video. Why, because it is an interactive 3D sex game. You are the one who will decide what to do to these girls.
What is a clicker game?
The concept of a clicker game is very simple. It is a type of incremental game whose game mechanics are deliberately simplified. The main action is repetitive and the actions are done by clicking. The more you click, the more you reach your objectives, but you can also let the scenario run, which is very pleasant in a sex game.
Goal and gameplay of Hentai Clicker
In Hentai Clicker, you will click to touch and fuck girls in all positions and cum when you see them taking pleasure. If you manage to make them cum, you will be able to place them in your harem and come back to see them whenever you want. You will also be able to take care of them and offer them gifts as you progress in the game. Be careful though, you are the only man who can make the girls come, but these girls can make each other come. Let's not forget that this is how they managed to hold out during all the time of your captivity in the witch's house. You will thus attend very exciting lesbian scenes and reach the orgasm while enjoying the show. You will also be able to enjoy very hard sex scenes. Among the hundred or so girls to unlock and put in your harem, you will find funny personalities, each one naughtier than the other, but above all very eager for sex.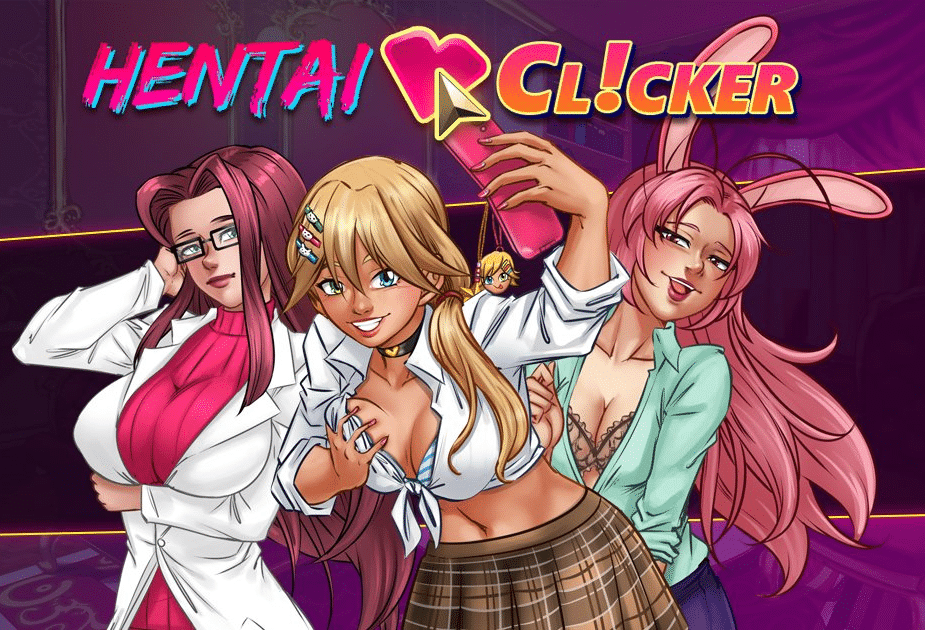 About the graphics
When you want to design an exciting porn game, it is essential to take care of the graphics. The player must be able to immerse himself in the action by having a view of all the details and especially the bodies, movements, expressions. The sound is also important. In a Hentai game, the artistic universe of the manga is added. Here, in Hentai Clicker, the graphics are very successful, and the girls are beautiful and existing. There is something for everyone, you will have a multitude of girls to make you cum and they all have their particularities and their specialties. The designers of the game have also thought to work on some details like facial expressions. As soon as they start to cum, you will see it very quickly. What we love about the Hentai style are the details in the graphics, especially the juicy effects on the girls' pussies.
How to play Hentai Clicker?
To play this game, it is very simple. You just have to go on the website of the game and create an account for free. The registration allows you to create your personal account and to record your progress in the game, but also to check that you meet all the requirements to be able to participate in the game. Indeed, to play an online porn game you must be over 18 years old. Then, you will be able to access the game and make them all come.
The other positive point of this game is that there is a mobile application that you can download and install on your smartphone. This way you can play more discreetly away from the reproachful eyes and enjoy the game wherever you are. The advantage of playing with a mobile application rather than a browser is that you will be able to fully enjoy your porn game experience in a format that is perfectly suited to the cell phone. You will be able to optimize your experience and feel more sensations and pleasure for a real moment of enjoyment.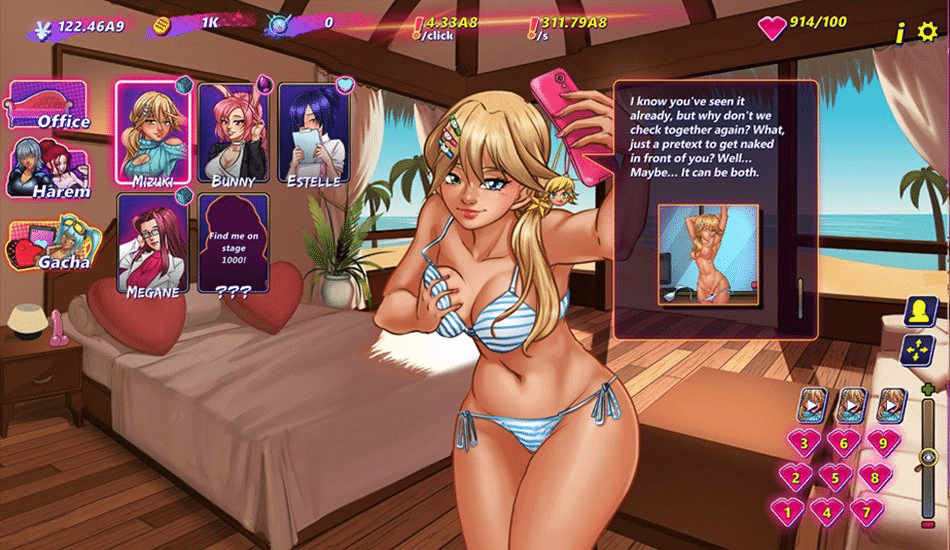 Is it a free hentai game?
In this world of porn games that are often based on the same economic model, namely with a free trial of a few days that then automatically switches to a subscription. The good surprise with Hentai Clicker is that it is completely free. You will not be charged for anything. This game works on the free-to-play model, so you can buy cosmetics and other skins via the store. But be aware that Hentai Clicker is not a pay-to-win game so don't worry!
Hentai Clicker Pros
To start on the strong points, we can say that the story is quite nice.
The first strong point of this game is the graphics which are particularly successful. The girls' bodies are splendid and the juicy effects of pleasure in their pussies are very exciting.
We can also give a special mention to the quality of the animation which is exclusively focused on the enhancement of the girls' bodies. Very quickly, the desire rises and we manage very quickly to give ourselves pleasure.
The game is interactive. You are not only a spectator, but also an actor since you are the one who controls the pleasure of the women you fuck in the game.
The ergonomics of the game allows a very easy handling. Thanks to the introductory tutorial, you will know very quickly how to evolve in the game and take pleasure very quickly by starting to undress the girls.
You will have more than a hundred girls who will be entirely devoted to your pleasure as long as you make them cum. If you want to go further in the game and enjoy even more exciting content and bonuses, you'll have to fill up your korbans seriously and switch to the premium version. Considering what's waiting for you, you won't be disappointed at all.
Cons
The first weakness of the game, for those who are approaching the age of majority, is that you will have to wait until you are 18 to register and create an online account. Some people will get very frustrated with this, but it's the law.
Secondly, the incremental games are based on very simplified actions. Some will regret the repetitive nature of the clicker and will say that your left index finger hurts faster than your right wrist.
Some of the scenarios are a bit long too and many regret a lack of variety in the music. The sound effects could also use some work.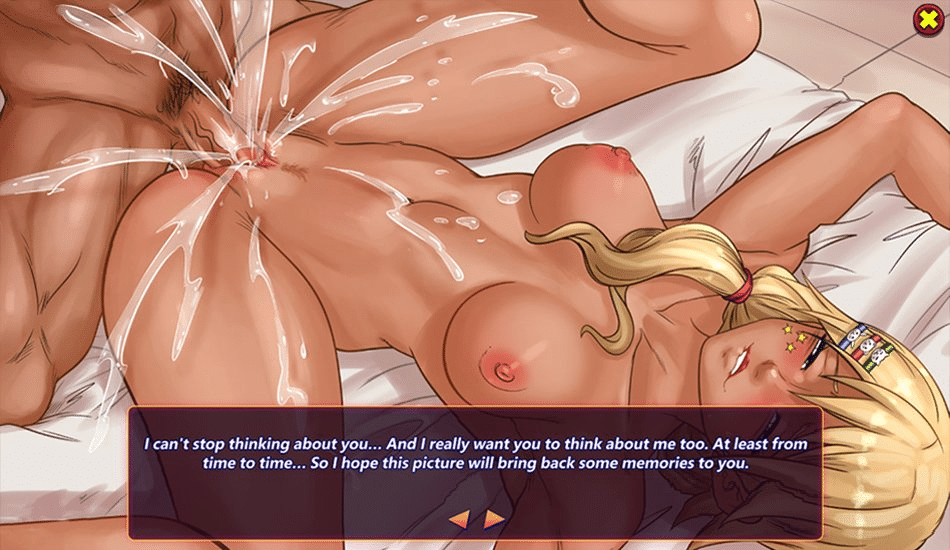 Review and opinion on Hentai Clicker
In our opinion, this game is a very good entry into the world of hentai games. Even if the premium version offers very hardcore fuck scenes, we regret all the excessiveness that some manga porn games can display. Nevertheless, for a game that offers a whole part of its gameplay in free version, it is a good quality game. First of all, we appreciate the quality of the graphics with very juicy effects. Then, it is a game that is easy to handle, the clicker game is played very easily with one hand, which is very important for a porn game. Nevertheless, we will regret the length and the slightly repetitive side of some game phases as well as the sounds that are still a bit neglected.
The game Hentai Clicker is also available in other languages:
Hentai Games Similar to Hentai Clicker