Erogames: free hentai games, visuals novels and hentai manga
Erogames
If you like uncensored hentai video games and you are looking for a stunning graphic quality, then Erogames is the answer to your questions! With a catalog that gathers the whole hentai universe, you will find up to 40 different references between porn games, mangas or hot RPGs. Moreover, the contents can be consulted from any support and remain 100% free. If you want to have fun with a hentai game, then we invite you to discover our complete review of Erogames!
Erogames: a website gathering hentai games, visuals novels and hentai mangas
Formerly Eroge, Erogames has been revamped to become the reference for online hentai games. Inside, you will find about forty porn games available in free to play which go from simple manga to visuals novels. You will also find a wide range of hentai sex games with hot scenes for your solo sessions. By gathering a vast community of passionate gamers, Erogames opens the doors to a fantasy universe that will make you addicted!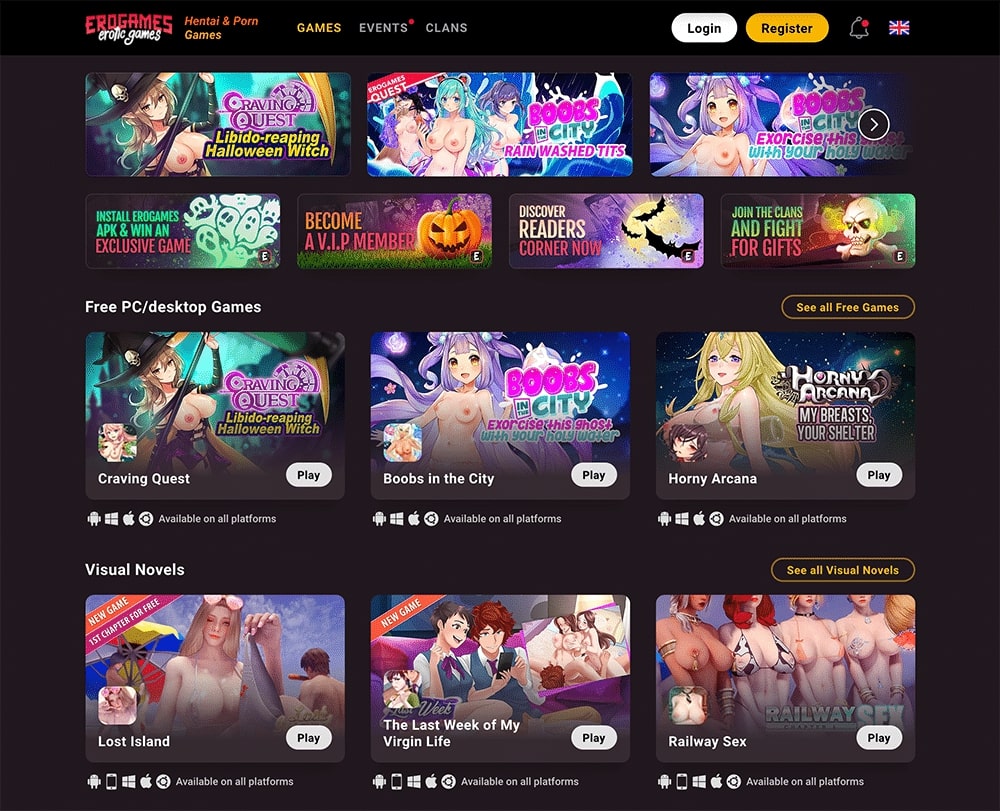 What do we find on Erogames?
On Erogames, the whole hentai universe is represented! You will find strategy games, mangas, hot RPGs or visuals novels!
List of hentai games
When it comes to the catalog of hentai games, you will be spoiled for choice! Uncensored and with stunning graphics, you can choose between straight and gay porn games with a simple click. In short, here is the list of what you can expect:
Horny Arcana
Fake Lay
Gods of Hentai
Princess Pixel
Puzzles & Panties
Sex Gladiators
As you can see, the Eroge platform gathers the best references of the moment! With very hard scenes that evolve according to your progress, you can easily test the hentai games of the catalog to find exactly the one that suits you. Moreover, the platform remains very ergonomic and guides you step by step with detailed instructions to directly reach your goals.
List of visuals novels
On Erogames, you can also enjoy about twenty visuals novels which plunge you into a terribly exciting sex game, until the explosion! In short, here is the list of the must-haves of the moment:
Lost Island
Railway Sex
Croo x Love - Yaoi
Analistica Academy
Black Gal
Charlotte
Detective Masochist
Forest Guardian
School Harassment
Sex Olympics
Naughty delivery
The Sex Clinic
Nakadashi Banzai
Natsu Doki
Virtual orgy
Oh Yes! 2
Parent-Teacher Meeting
Tsun M
The last Day of my virgin life
The last Week of my virgin life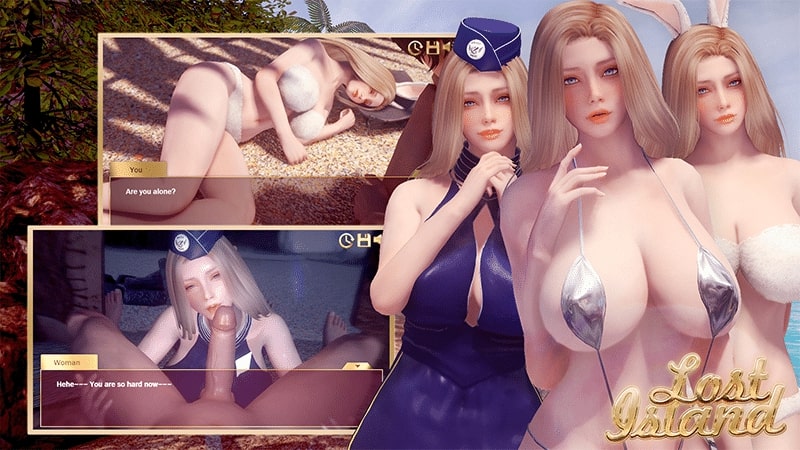 List of hentai manga
Finally, Erogames also offers a whole list of hentai manga for fans of naughty comics who can read them directly online!
Room 13
Centpudeurs
No Mens Land
Imperfect 1
Anachrony
Imperfect 2
Imperfect 3
Imperfect 4
Titania
Gwendoline
Hentai games for Android, iphone and PC
The hentai games of Erogames have the advantage of being adapted to all supports and all browsers. Directly on your computer, you will be able to consult the catalog and dive into any manga or visual novels. But as they are responsive, they also adapt very well to the size of your screen whether on a tablet or on a smartphone for a version under Android or IOS. In short, you can take them wherever you want to enjoy them anytime! Moreover, since they are available in multiple languages, they offer you a totally immersive experience that will make you sweat!
Do I have to pay to access the site?
On Erogames, the majority of hentai games are free! Moreover, Erogames offers you the widest range of the market with a multitude of styles and stories to discover. So you don't need to take out your bank card to enjoy a porn game. On the other hand, Erogames frequently organizes event games that will require you to register. For this, you just need to fill in your personal login and password to access them. In addition, you will receive 100 erogold that you can spend in one of your favorite hentai games to climb in level.
Erogames also offers you to gather between gamers by forming a clan. To join a clan, you just have to apply directly to the owner, who will be able to validate or not your integration. Then, you will participate in clan games that will make you discover new hentai graphics always harder. Moreover, you will be able to discuss with other members in order to exchange tips to progress in your favorite stories.
Finally, and even if the access to the platform is completely free, you can also decide to become a VIP member. Here, you can enjoy the new hentai games exclusively and you can even become a Beta Tester by leaving comments to improve the gameplay. For this, you will have to opt for the paid membership at $9.90 per month which will give you 1300 free eurogold every month to enjoy!
Why you should register on Erogames?
If you are an absolute fan of the hentai universe, then you can't escape Erogames! By gathering the best hentai games of the moment, this site offers you a varied offer to multiply your horizons. Mangas, visual novels, hot RPGs, strategy on PC... There is something for all tastes and styles! Moreover, the games are in English, which allows you to immerse yourself in the hottest scenes. As for the graphics, they are of a great quality with a lot of details more real than life. For $0 a month, you would be wrong to deprive yourself of it!
What do we think of Erogames?
After several weeks of use, here is a brief summary of the pros and cons of Erogames!
Pros
Fast registration: particularly ergonomic, Erogames has set up an ultra-fast registration process that allows you to access a number of features such as participation in exclusive events every month or clan games.
100% free: in addition, all the hentai games offered are free to play! So you can have fun at any time and anywhere without spending all your budget! Moreover, Eroge doesn't harass you with ads, which is very appreciable for the navigation.
A varied offer: with more than 20 different visuals novels, strategy hentai games or RPG mode, Erogames offers you a varied offer to allow you to explore your every fantasy. With a simple click, you can start a brand new story to enjoy a solo session.
Stunning graphics: Since Eroge is a collection of the latest releases, you can enjoy the latest hentai gems! In terms of graphics, the creators have focused on true-to-life details for an incredibly immersive experience that brings your wildest fantasies to life!
Cons
Concerning the disadvantages of Erogames, we could perhaps reproach it for its in-game purchases which are relatively expensive. However, by simply registering, you can already get an idea by receiving 100 erogold for free. Moreover, you don't need to take out your bank card to play your favorite hentai games anywhere and from any support. On the other hand, some gamers often criticize the mobile catalog for not being varied enough. However, Eroge already gathers more than 40 different hentai games with even the option of mangas for those who have a preference for naughty comics!
Our review on the Erogames.com website
To conclude, our opinion on Erogames is obviously positive! Today, it is one of the best hentai game websites on the market. It must be said that inside, you will find up to 40 references in various styles. Mangas, visuals novels, hot RPG, strategy porn games... They are all accessible for free and without ads! Moreover, many of them are available in several languages.
By gathering all the hentai gems in one place, you'll just have to browse the catalog to discover a brand new story. What's more, Erogames is available on all browsers and all media, whether on PC, tablet or smartphone. You can take it anywhere and consult the site anytime for a solitary session. Finally, as far as graphics are concerned, you will be served with amazing details and a surprising realism. In short, and if you are absolutely fans of the hentai universe, this is the address to test absolutely!
The game Erogames is also available in other languages:
Hentai Games Similar to Erogames